Whether you are travelling alone, as a couple, with the family or as a group, cycling or back-packing, the Schanzenstern-Altona offers suitable accommodation for every requirement. We have single and double rooms available, as well as larger rooms for accomodating three to seven people and self-catering apartments accommodating two to four people.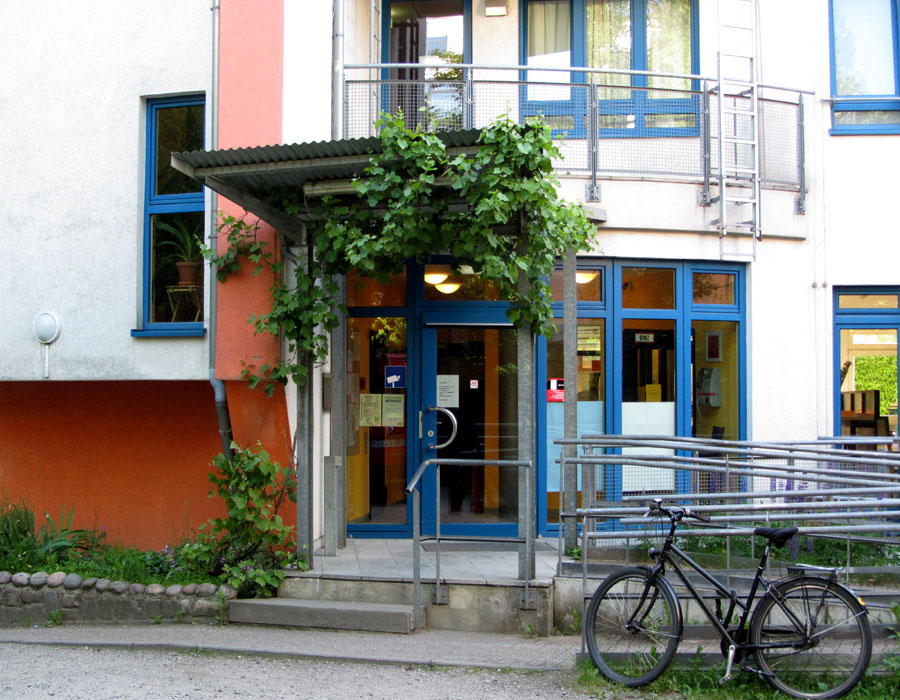 Our building is located in the middle of Ottensen in Altona - one of the most vibrant quarters in Hamburg. A working-class area in former times, Ottensen offers its own particular flair to both inhabitants and visitors: its streets and squares are characterised by a multitude of cafés and restaurants, and a multi-cultural atmosphere. Whether they want to go shopping or bar-hopping in Ottensen, or to stroll down to the banks of the Elbe, with its spectacular sunset view across the harbour, our guests profit from the central location.
The Schanzenstern-Altona is five minutes' walk from "Altona" station, which can be reached by both long-distance and local trains, and also by bus.
Hamburg's Central Station ("Hauptbahnhof") is three stops away from "Altona" station; and you can travel directly from "Altona" to Hamburg Airport on the S-Bahn line 1: the journey takes approximately half an hour.
The entrance to our building is in the courtyard. There is direct access (including wheelchair access) to the elevator from the foyer.
The reception and the breakfast-room are on the ground floor. You are welcome in these areas, to read the papers or drink a coffee, throughout the day.
In the morning we offer our guests a delicious breakfast buffet. Our food products come exclusively from certified organic sources. We can also provide gluten-free bread rolls, on request. In addition - or as an alternative - to breakfast, you can order a packed lunch.
From Monday to Friday, between 12:00 and 16:00, we offer a organic vegetarian lunch menu.
Out of consideration for our guests, the entire hotel is non-smoking.
Our wheelchair-friendly rooms are to be found on the first floor. The other single and double rooms, and the larger rooms and apartments, are located between the second and fifth floor.
The apartments all contain a bathroom and either a kitchen or a kitchenette.
If you want to explore Hamburg on bike, we can offer up to five bicycles for hire.