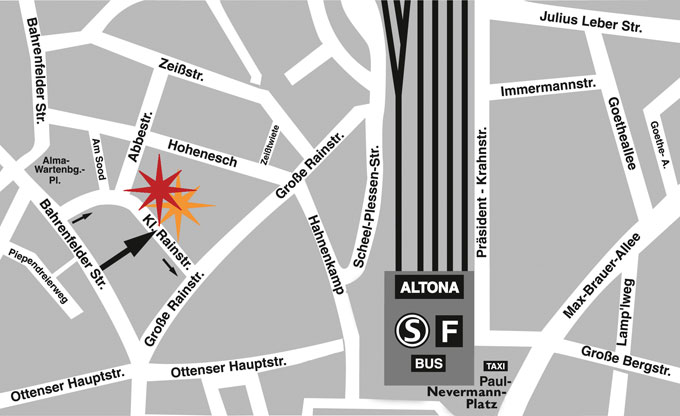 Ottensen: between the city, the Elbe and the Volkspark
The Schanzenstern-Altona is located in the middle of Ottensen, in Altona - one of the most vibrant quarters in Hamburg. Altona station is five minutes' walk from the Schanzenstern. Many of the Deutsche Bahn's long-distance trains arrive directly at Altona station, and it can also be reached by the local trains of the S-Bahn (Hamburg's central station, the Hauptbahnhof, is approximately 11 minutes away).

A working-class area in former times, Ottensen offers its own particular flair to both inhabitants and visitors: its streets and squares are characterised by a multitude of cafés and restaurants, and a multi-cultural atmosphere. Whether they want to go shopping or bar-hopping in Ottensen, or to stroll down to the banks of the Elbe, with its spectacular sunset view across the harbour, our guests profit from the central location.
Click here to see a bigger map ...

Most trains go directly to Altona station. From there it is a 5 - minute - walk.
If your train stops at Hamburg central station, you will have to take the S-Bahn(S31) On our map you can see how you get to the hotel from Altona station.
Unfortunately, our house does not have its own parking spaces.
However, you can drive to our yard by car and unload your luggage.
In our vicinity is the paid multi-storey car park of the "Mercado" shopping centre.
All information can be found at:
Parking Garage Mercado
Coming from south:
BAB 7, exit Othmarschen, which is directly behind the Elbe tunnel. After the exit go right on Behringstrasse (signs to center). Go straight on for about 3 km. You pass a church on the right. After that you go right at the second street (Friedensallee), which ends in the Bahrenfelder Strasse after 100m. After 30m you go right again into Kleine Rainstrasse. This took about five minutes from the Autobahn.
In our back yard there are parking spots exclusively for handicapped persons. In the Kleine Rainstrasse there is free parking, but spots are scarce. In 5 minutes walk you find the Mercado parking garage.
geographic coordinate: 53.553586,9.930232
From the airport you take the S-Bahn S1 to Altona.
On our map you can see how you will get to the hotel from there.